A State-Efficient Zebra-Like Implementation of Synchronization Algorithms for 2D Rectangular Cellular Arrays
Keywords:
cellular automaton, FSSP, firing squad synchronization problem
Abstract
The firing squad synchronization problem on cellular automata has been studied extensively for more than forty years, and a rich variety of synchronization algorithms has been proposed for not only one-dimensional (1D) but two-dimensional (2D) arrays. In the present paper, we propose a simple and state-efficient mapping scheme: zebra-like mapping for implementing 2D synchronization algorithms for rectangular arrays. The zebra-like mapping we propose embeds two types of configurations alternately onto a 2D array like a zebra pattern, one configuration is a synchronization configuration of 1D arrays and the other is a stationary configuration which keeps its state unchanged until the final synchronization. It is shown that the mapping gives us a smallest, known at present, implementation of 2D FSSP algorithms for rectangular arrays. The implementation itself has a nice property that the correctness of the constructed transition rule set is clear and transparent. It is shown that there exists a nine-state 2D cellular automaton that can synchronize any (m x n) rectangle in (m+n+max(m,n)-3) steps.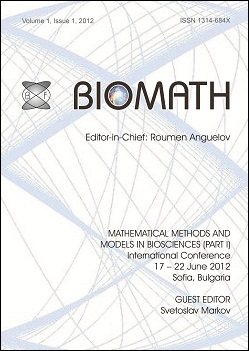 Downloads
Section
Original Articles
License
The journal Biomath is an open access journal. All published articles are immeditely available online and the respective DOI link activated. All articles can be access for free and no reader registration of any sort is required. No fees are charged to authors for article submission or processing. Online publications are funded through volunteer work, donations and grants.
Authors who publish with this journal agree to the following terms:
Authors retain copyright and grant the journal right of first publication with the work simultaneously licensed under a Creative Commons Attribution License 4.0 that allows others to share the work with an acknowledgement of the work's authorship and initial publication in this journal.
Authors are able to enter into separate, additional contractual arrangements for the non-exclusive distribution of the journal's published version of the work (e.g., post it to an institutional repository or publish it in a book), with an acknowledgement of its initial publication in this journal.
Authors are permitted and encouraged to post their work online (e.g., in institutional repositories or on their website) prior to and during the submission process, as it can lead to productive exchanges, as well as earlier and greater citation of published work (See The Effect of Open Access).