From the Editors
Abstract
This volume contains selected papers presented at the International Conference on Mathematical Methods and Models BIOMATH 2017, which took place from 25 to 30 June 2017 at Skukuza Camp in Kruger Park, South Africa (see www.biomath.bg/2017). The volume is available online at www.biomathforum.org/biomath/index.php/texts.
All papers included in the Proceedings of Biomath 2017 have been reviewed by at least two peer reviewers in a two-round review process. Total of 19 manuscripts were submitted for publication in the proceedings, of which 10 were accepted and included the present volume.
We would like to thank the referees for their professional work in ensuring the high quality of this publication. Further, we would like to thank all authors who contributed their results for publication in the Proceedings of Biomath 2017.
M. Lachowicz was supported by the National Science Centre Poland Grant 2017/25/B/ST1/00051. R. Anguelov was supported by the NRF/DST SARChI Chair in Mathematical Models and Methods in Bioengineering and Biosciences.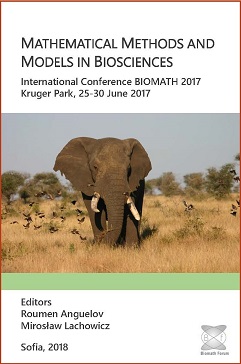 Downloads
License
This books series is distributed under the terms of the Creative Commons Attribution License (CCВ BY 4.0), which permits unrestricted use, distribution, and reproduction in any medium, provided the original author and source
are credited.