Predator-Prey Model with Prey Harvesting, Holling Response Function of Type III and SIS Disease
Keywords:
Prey, Infectious disease, Response function, Bifurcation, Global Stability.
Abstract
The populations of prey and predator interact with prey harvesting. When there is no predator, the logistic equation models the behavior of the preys. For interactions between preys and predators, we use the generalized Holling response function of type III. This function which models the consumption of preys by predators is such that the predation rate of predators increases when the preys are few and decreases when they reach their satiety. Our main goal is to analyze the influence of a SIS infectious disease in the community. The epidemiological SIS model with simple mass incidence is chosen, where only susceptibles and infectious are counted. We assume firstly that the disease spreads only among the prey population and secondly that it spreads only among the predator population. There are many bifurcations as: Hopf bifurcation, transcritical bifurcation and saddle-node bifurcation. The results indicate that either the disease dies out or persists and then, at least one population can disappear because of infection. For some particular choices of the parameters however, there exists endemic equilibria in which both populations survive. Numerical simulations on MATLAB and SCILAB are used to illustrate our results.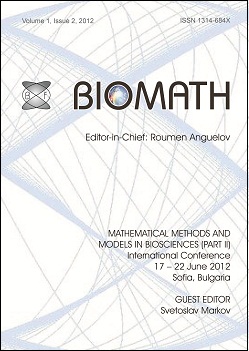 Downloads
Section
Original Articles
License
The journal Biomath is an open access journal. All published articles are immeditely available online and the respective DOI link activated. All articles can be access for free and no reader registration of any sort is required. No fees are charged to authors for article submission or processing. Online publications are funded through volunteer work, donations and grants.
Authors who publish with this journal agree to the following terms:
Authors retain copyright and grant the journal right of first publication with the work simultaneously licensed under a Creative Commons Attribution License 4.0 that allows others to share the work with an acknowledgement of the work's authorship and initial publication in this journal.
Authors are able to enter into separate, additional contractual arrangements for the non-exclusive distribution of the journal's published version of the work (e.g., post it to an institutional repository or publish it in a book), with an acknowledgement of its initial publication in this journal.
Authors are permitted and encouraged to post their work online (e.g., in institutional repositories or on their website) prior to and during the submission process, as it can lead to productive exchanges, as well as earlier and greater citation of published work (See The Effect of Open Access).